The Lexmark that I've had since before getting pregnant with Melissa finally packed it in. Or rather - it went so completely beserk and even the resident IT Guru couldn't get it working properly.
Allan surprised me last night with an early birthday present of an
HP PSC 2355
!!! PSC stands for "Printer, Scanner, Copier". It's the
copier
part I'm the most excited about - I've been wanting that function for a LONG time! Allan spent an unexpected bonus cheque on it so I had NO idea and I wouldn't kill him for spending outside of budget.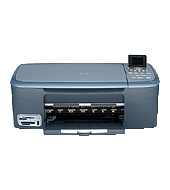 In other news - I attended my first housing co-op finance committee meeting last night and came away from it the chair of the co-op finance committee. I will be getting lots of instruction from the former chair - who is now the Treasurer for the Board of Directors and can't hold both positions due to conflict of interest.
Though it may prove to be quite a bit of work - I"m long overdue. Members of the co-op are required volunteer 6 hours per month. Since we moved in last February - I have not done ANYTHING and Allan has helped with spring clean-up for 6 hours one Sunday. It'll be a good chance for me to put some of my business/accounting classes to use and might also serve as a good resume item whenever I need to re-enter the workforce. I've realized that I have been out of the workforce for 5 years come August.